How Big is Goodyear AZ
Like much of the region, Goodyear just keeps growing. According to the 2020 Census, the population is 95,294. A more recent estimate puts the community at 105,000.
Clearly it is thriving. This Phoenix-area city ranked 22 among the 50 top places to live by Money magazine in 2019. In 2020, Goodyear won the Best City for Business Award from the Arizona Chamber of Commerce. The walkable downtown Goodyear project won a prestigious 2023 Real Estate Development Award.
The city covers some 192 square miles. The area stretches about 37 miles long and 7 miles wide. It is part of Maricopa County, the fourth most populous county in the United States.
Many people commute to work, keeping the roads and highways quite busy. Employers include Microsoft, UPS, Amazon, Nike and other large companies. The average commute is 31 minutes, according to US Census Data. However, there are commuters who report 1 to 1.5 hours of car time each way.
There are many large planned communities including PebbleCreek, Estrella and Palm Valley. Dozens of golf courses dot the landscape with names like Tuscany Falls, Eagle's Nest and Wigam Resort.
Is your current ride a good commuter? You'll find great choices at the Avondale Auto Mall. Trusted dealerships offer no-stress customer service and good deals on used SUVs for sale by Ford, Honda, Hyundai, and many other major brands.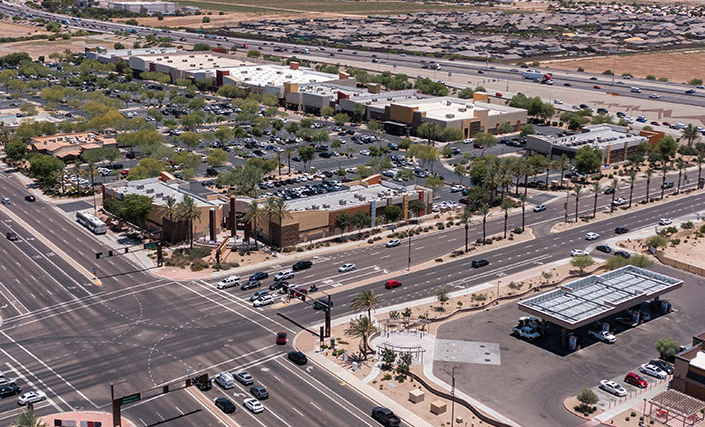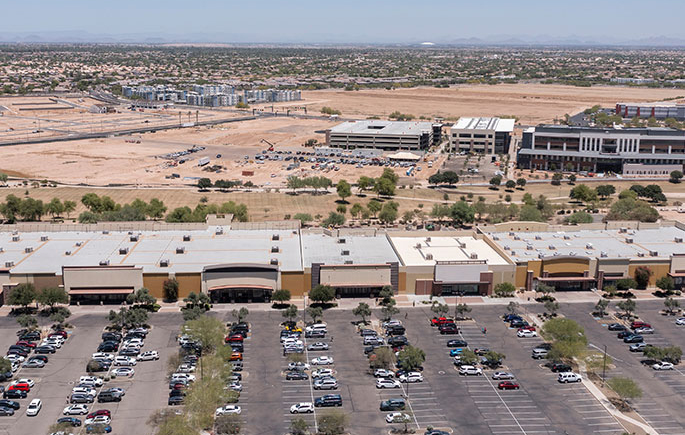 Fast Facts About Goodyear AZ History
The city was named for the Goodyear Tire and Rubber Company. That may not surprise you. However, it is surprising that it was due to a cotton farm. This necessary natural fiber was used to make tire cords. And that's why Goodyear AZ got its start in 1917.
During World War II, Goodyear Aircraft built plane subassemblies at a factory they located near that same farm. In 1943, a large satellite airfield for Luke Army Base was built in Goodyear and operated in some form until the early 1970s.
Before anyone had heard of "tiny houses", Goodyear AZ  had them. World War II housing was hard to come by. So 225-sq ft homes were brought from a factory on truck trailers. These box-like structures could open up to provide bedrooms, a kitchen and living room. There are only a few Wingfoot houses left today.
After the war, the town was finally incorporated. Housing included 151 individual homes and 250 apartments. The population remained small until the 1990s when numerous planned communities were added.
The area has become home to numerous shopping areas. The nearby Avondale Auto Mall is the perfect destination for new or used cars. Shoppers can easily do multiple test drives at different locations in one afternoon.
Favorite Places to Go
Goodyear Park, completed in 2009, has a 10,000-seat stadium. The complex is home to two MLB teams that play in the Cactus League.
Every spring, you can root for the Cleveland Guardians, the Cincinnati Reds, or your favorite visiting team. The rest of the year Goodyear Park hosts other sporting events and special activities.
The Estrella Amphitheater offers concerts under the stars. Of course, Goodyear is an easy driving distance to numerous venues in the Phoenix Area where you can watch a play, go to a musical, or just dance the night away to live music.
In addition to the golf courses and baseball games, there's a lot to do outdoors when you live in Goodyear. To enjoy the area's deserts and mountains, you only have to drive a few minutes to Estrella Mountain Regional Park. Adjacent to Goodyear, it spreads over 20,000 acres.
To really make the most of living in Goodyear, you need a good car to take advantage of the many natural wonders that are so close by. A used SUV sale can help you find the best prices on a good 2 row or 3 row SUV at trusted dealerships.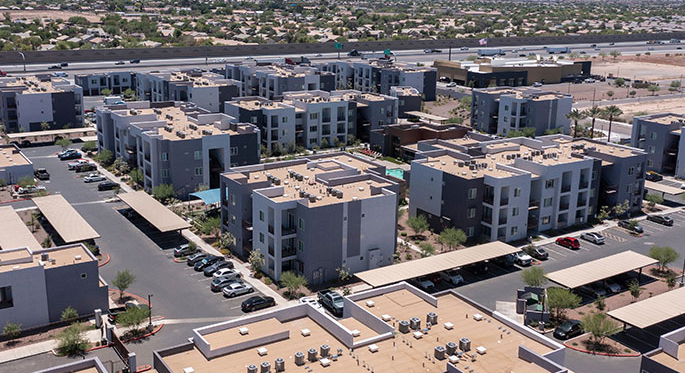 Why Goodyear Drivers Choose the Avondale Auto Mall
The Avondale Auto Mall is a group of dealerships located just off of I-10.  With a number of namebrand dealerships in one place, it's easier than ever to compare today's best used SUVs, cars and trucks.
Plus, if you want the inside track for financing used cars, you can check out No Bull Financing. This is available at several automall dealerships. No Bull Financing can help Goodyear AZ car shoppers overcome poor credit and find the loans they need.
With all of the dealerships in one area, you've got your choice of accredited service technicians. You can get your big truck repaired by experts at a Ford dealership, have your hybrid overhauled by a Honda dealer, or have repairs done on your SUV at a certified Hyundai dealer.
Directions
Near where I-10 and AZ Loop 101 meet, the Avondale Automall runs from 99th Ave to 107th Ave just south of the Papago Freeway. It's just 9 miles from the Goodyear city center. With everything in close proximity, you can shop around without driving all over Phoenix.
Used
A large inventory of used cars, SUVs, trucks, work vans, minivans, and more can be found at the dealerships that make up the automall. You can count on competitive prices, onsite financing, and true variety. Since the dealerships have service departments, you can feel at ease, knowing that your used SUV was inspected by expert technicians before it was offered for sale.
RVs and More
There are several camper sales sites in the automall. Plus you can find the big truck you need to pull a camper. This may be the Honda Ridgeline, Ford F-150, or a heavy duty like the Ram 2500, Chevy 2500 or Ford F250.